Home Comfort Center:  Your One Stop for ALL Your Home Comfort Needs!!
Heating and Cooling London Ontario

Over 30 years of serving London and surrounding areas, Home Comfort Center is your one-stop for furnace repairs, servicing, and installation. We also supply and install central air conditioners, gas fireplaces, water heaters, gas lines for stoves, BBQ's, dryers, pool heaters, space heaters for garages or accessory buildings. At Home Comfort Center we do it all!!! We service and repair ALL brands of furnaces, central airs and gas fireplaces as well as all types of gas appliances.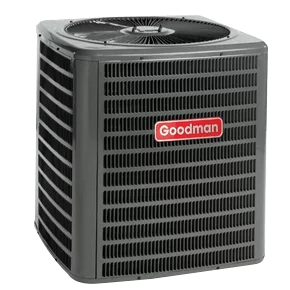 Sheet Metal Shop & London Showroom
Do you need to replace your furnace or add ductwork for a home addition? Our technicians are able to customize any installation or renovation in our own sheet metal shop.
Want to add the warmth and style of a gas fireplace? Home Comfort Center welcomes you to our London showroom for a personalized consultation and free estimate. We also book after-hours, Saturday and in-home appointments.
Learn more about Goodman Air Conditioning and Heating
Call for Maintenance & Emergency Services
In addition to regular service calls and maintenance, Home Comfort Center offers 24-hour emergency repair services to all of our residential and commercial customers. After hours, call us at (519) 672‑0400. Leave a voice message with your name, address, phone number, and service problem. Our technician will call back soon.
We always try to help you over the phone before we make a service call.
Is Your Furnace Ready for Fall/Winter?
Give it a tune up for the up and coming furnace season.
Are you thinking about replacing your old furnace and air conditioner after last year's poor performance and high bills?
Call us to book a free in-home quote. We have Goodman GM9C96 96% AFUE furnaces starting at $3,800.00 + HST installed and Goodman GSX13 air conditioner and coil starting at $3,000.00 + HST installed.
Promotions and Special Offers
London
Dorchester
St. Thomas
Thamesford
Komoka
Port Stanley
Price matching on same makes and models
24/7 emergency service
London
Ingersoll
St. Thomas
Port Stanley
Woodstock
Sarnia
Most areas in
southwestern Ontario
Promotions and Special Offers
saveONenergy™ rebate
Free quotes
Price matching on same makes and models
24/7 emergency service
For many of us, air conditioning is a must during the hot summer months and we simply can't go on without it. In many cases, staying cool can lead to an increase in your monthly electricity costs, so try the following tips to stay cool without having to cough up more...
MAKE SURE YOU HAVE A WORKING CO2 AND SMOKE DETECTOR IN YOUR HOME.
MAKE SURE YOU HAVE A WORKING CO2 AND SMOKE DETECTOR IN YOUR HOME.